aPPARTAMENTO DELLO STEMMA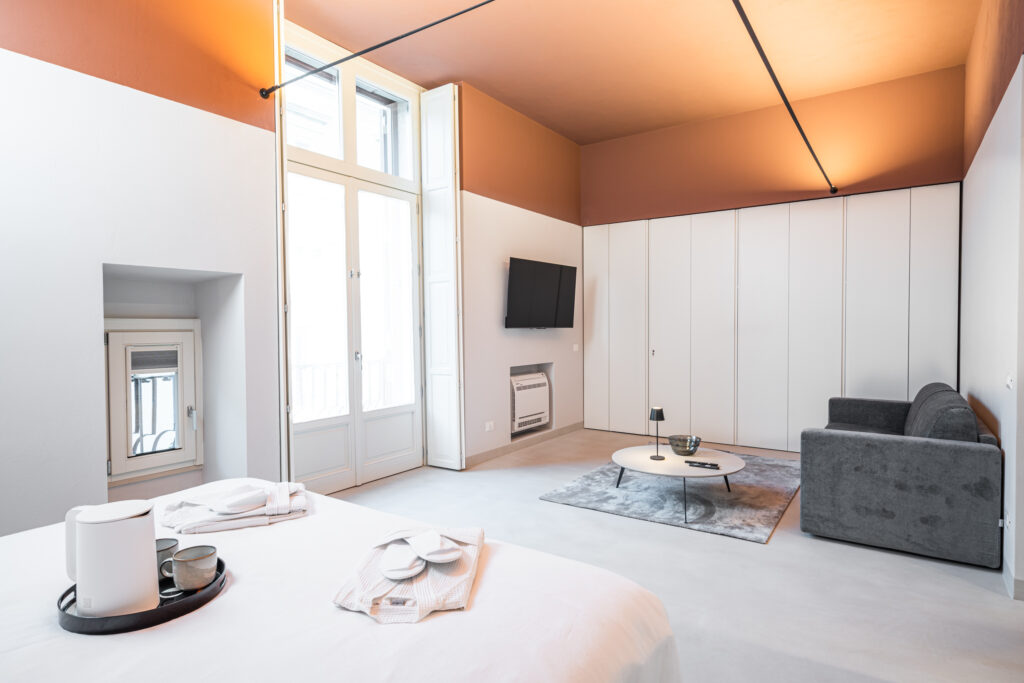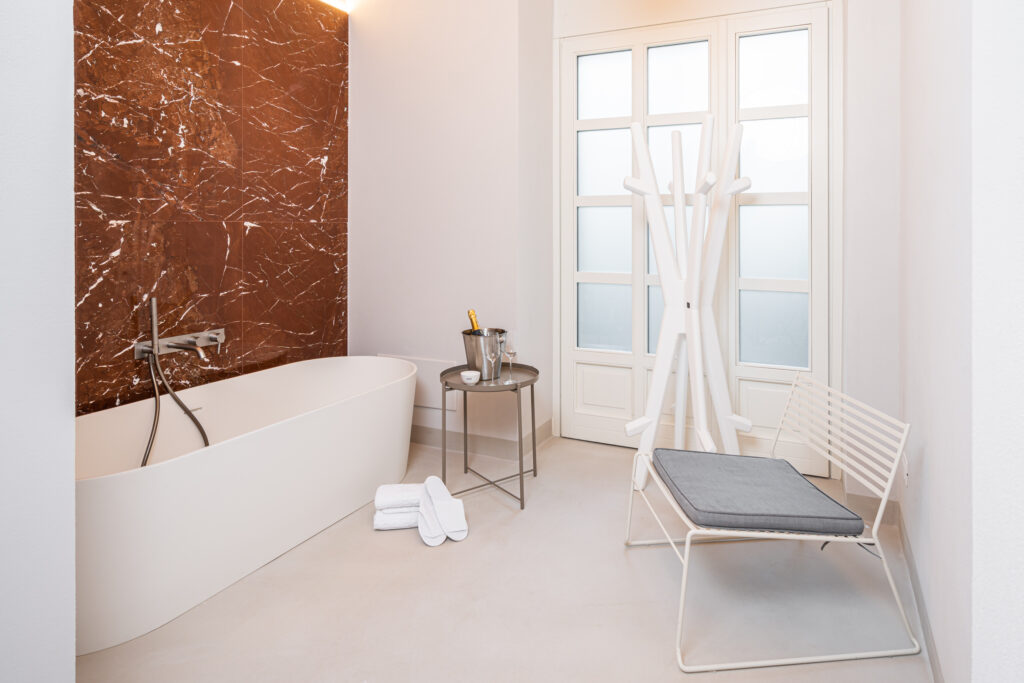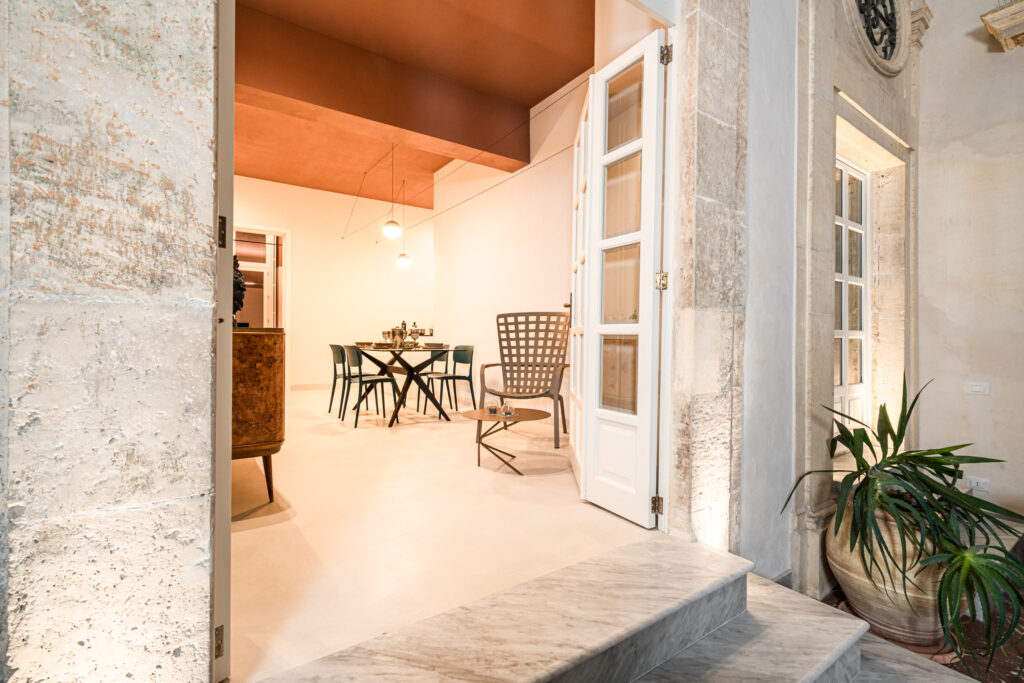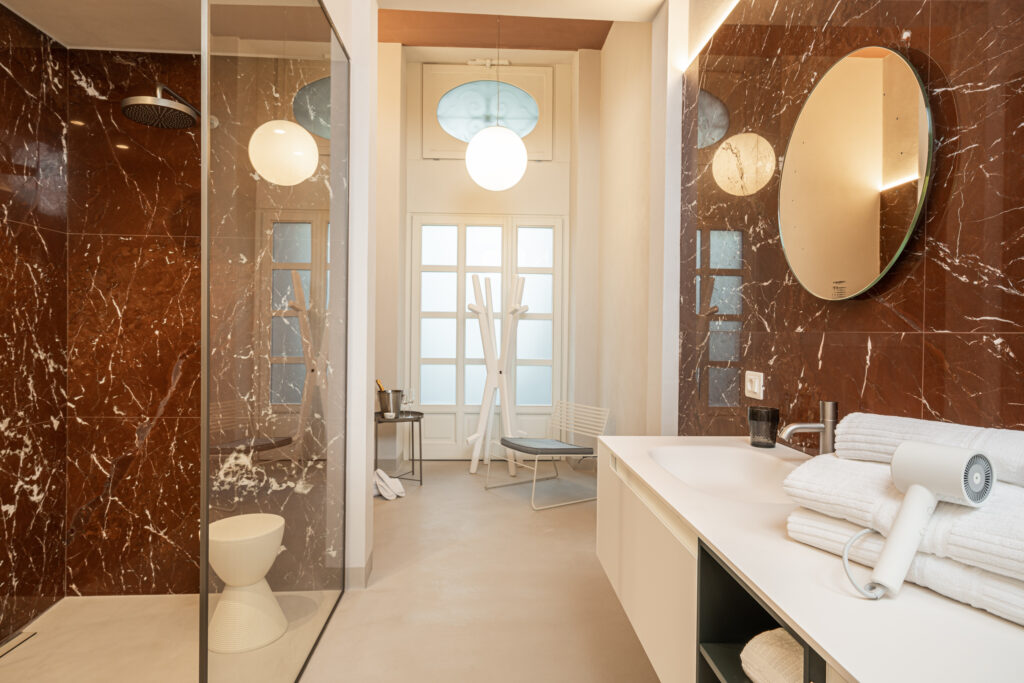 The Apartment dello Stemma at Loggiato Verga is the first luxurious apartment obtained from an impressive renovation of the building, which took place at the behest of the Verga heirs, owners of the building since the early 1940s.
The apartment is in fact located on the first floor of Palazzo Bonanno di Linguaglossa, one of the most majestic and iconic Baroque palaces in Ortigia, dating back to the 1700s.
The property stands out for the use of precious coating materials for the internal and external floors and walls and for the furnishings, made up of design pieces and custom-made furniture. 
The loggiato, i.e. a private covered terrace of about 25 square meters, which overlooks the internal Baroque courtyard, has been restored using the colors of the ancient marbles that were already present in the palace in 1760. In particular:
- the sicilian red marble of San Marco D'Alunzio
-the grey marble Bardiglio
- the white marble of Carrara
The double exposure and the large glass window-doors let the light filter in and make this apartment extremely bright. 
Another element of uniqueness is given by the bathroom, of very large dimensions (about 20 square meters). The walls covered in red marble, a modern Italian design bathtub and a walk-in shower more than 2 meters wide provide a luxurious appeal and an area of relaxation and privacy for the most demanding customers.
From next year, two additional suites will be available. These can be rented separately or together with the Appartamento dello Stemma. Thanks to an elaborate system of doors hidden in the boiserie, all suites can be joined internally, making the location a single apartment of about 250 m2 plus the loggiato.
The apartment consists of a living/dining area with open kitchen overlooking the loggiato, a large bedroom with private balcony which leads to the bathroom.
The Appartamento dello Stemma will be bookable from April 2023 while the two adjacent suites will be available from April 2024.
80 Sqm + 25 Sqm internal terrace
CITY VIEW AND COURTYARD VIEW