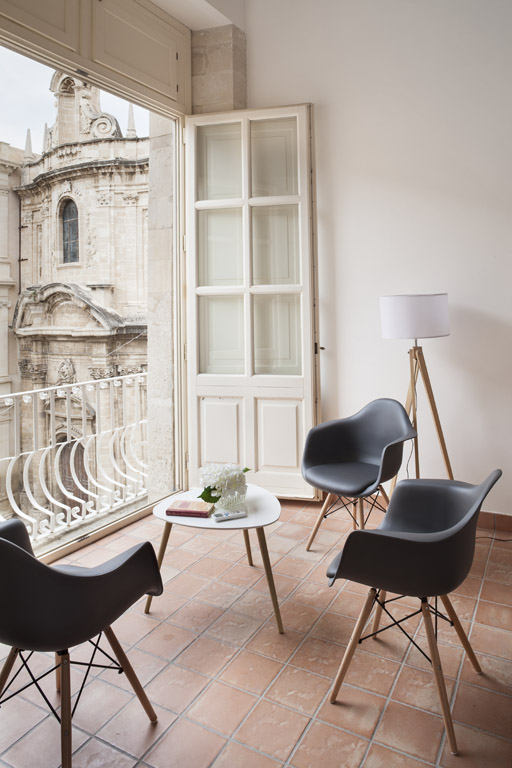 [ngg src="galleries" ids="2″ display="basic_thumbnail" thumbnail_crop="0″] [blank_spacer height="30px" width="1/1″ el_position="first last"] [impact_text include_button="yes" button_style="standard" title="CLICCA QUI" href="https://www.bedandbros.it/wp-content/uploads/2019/04/INTERNO-5-BARBANEGRA.pdf" color="grey" target="_self" position="cta_align_bottom" alt_background="none" width="1/1″ el_position="first last"]
DOWNLOAD THE BROCHURE OF THE APARTMENT
[/impact_text] [blank_spacer height="30px" width="1/1″ el_position="first last"]
NUMBER 5
Apartment on the second floor of the oldest Baroque noble palace in Syracuse, Palazzo Bufardeci.

It is a luxury apartment a few steps away from the Cathedral of Ortigia and the sea. It is cool and quiet and equipped with all comforts. The apartment consists of two double bedrooms, an area with a single sofa bed, a large bathroom with shower, a service bathroom, kitchen and balconies with a view. Possibility to add a cot on request.

second floor without elevator.
FREE WI-FI
AIR CONDITIONING
HEATING
BALCONY
OVEN
INDUCTION HOB
KETTLE
SMART TV
[impact_text include_button="no" button_style="standard" title="PDF –>" color="accent" target="_self" position="cta_align_left" alt_background="none" width="1/1″ el_position="first last"]
[/impact_text] [blank_spacer height="30px" width="1/1″ el_position="first last"]

ADDRESS

Via della Maestranza 72 – Ortigia Siracusa