Ortigia is a small island of about 1 square kilometer in extension. It is the very city center of Siracusa, where the most important monuments and attractions are located. Ortigia emerges from the waters of the Ionian Sea along the eastern coast of Sicily, a few hundred meters from the mainland. The island is permanently connected by two bridges.
Why this sicilian gem worth to be explored? Here there are some splendid buildings from various eras, starting from the Greek period.  
Piazza del Duomo is a must during a visit to the city, also because it is along its perimeter that all its main monuments are concentrated. Fromprecious churches to elegant noble palaces. The pride of the entire square is certainly the Cathedral, an architectural masterpiece which, throughout its history, has been a Greek temple and mosque. There are many historic buildings overlooking the square, such as the Baroque Palazzo Beneventano dal Bosco, the Palazzo del Municipio and Palazzo Borgia Impellizzeri. There is no shortage of places of worship beyond the Duomo such as the Chiesa di Santa Lucia alla Badiainside of which it is possible to admire a painting by Caravaggio.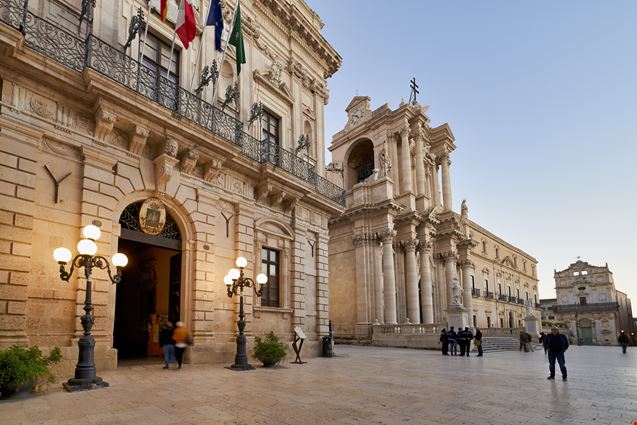 The magnificent Greek Theater of Syracuse is a theater built in its first phase in the V Century B.C.located within the Archaeological Park of Neapolis, but it was transformed during the Roman era. In the same park, you can also admire the Roman Amphitheater, the largest in southern Italy, which dates back to theimperial age..
The Amphitheater is one of the largest existing buildings, it was partially excavated in the rock and has an elliptical shape. Not to be missed inside the Park, are also the Ara di Ierone and theEar of Dionysius.
The Maniace Castle dates back to the first half of the thirteenth century and the construction we see today was commissioned by Frederick II of Swabia. However, its name derives from Giorgio Maniace, a Byzantine commander who had a fortification built here in 1038.
In the few rooms that can be visited, artifacts found during the restorations (in the Antiquarium) and ancient maps (in the Cartographies Room) are preserved.